Leather is a soft material that needs regular care. Nevertheless, just little daily things could be done so that your shoes remain beautiful season after season.
You can now order our creams in our online shop !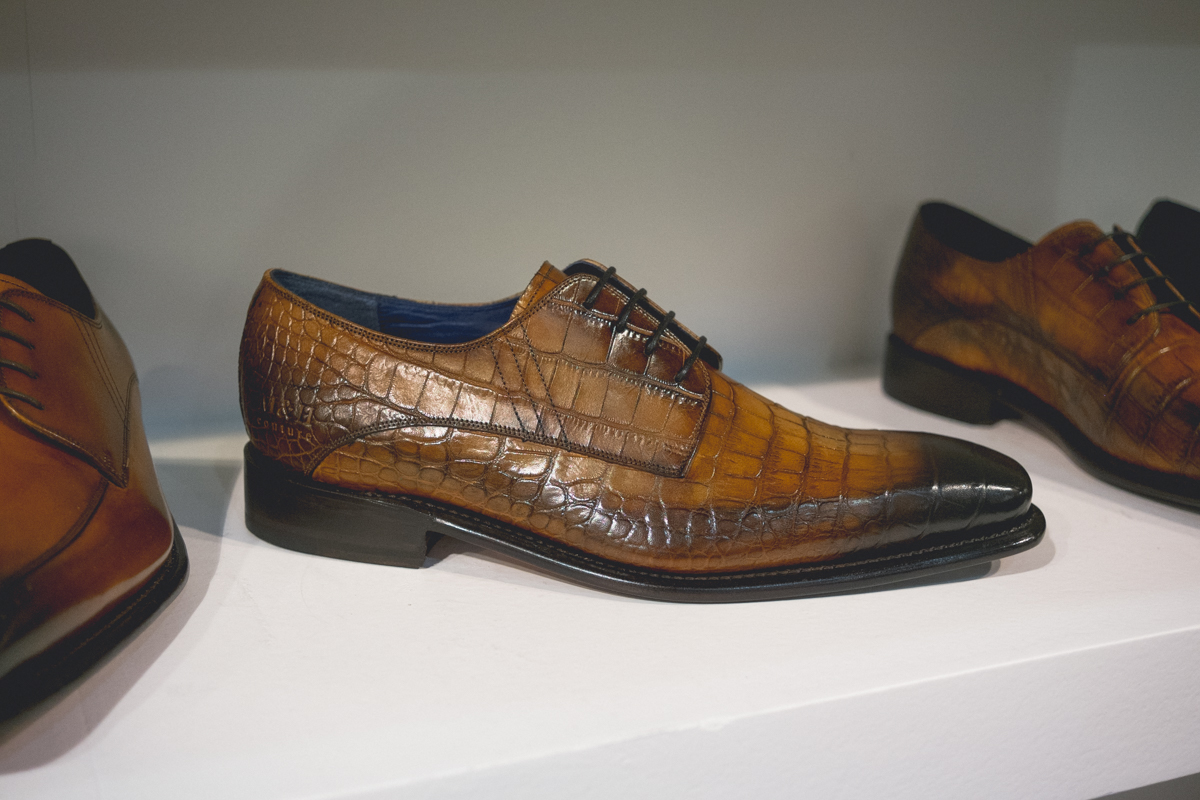 In all cases, we recommend the use of good quality products: creams, brushes, polishes ... Products which are too cheap sometimes may not properly feed the leather, or could even sully it.
It is preferable to have only a few -but very good- products: a brush, a soft cloth (a chamois cloth) and a quality shoe polish. These will be your basic tools to get you started.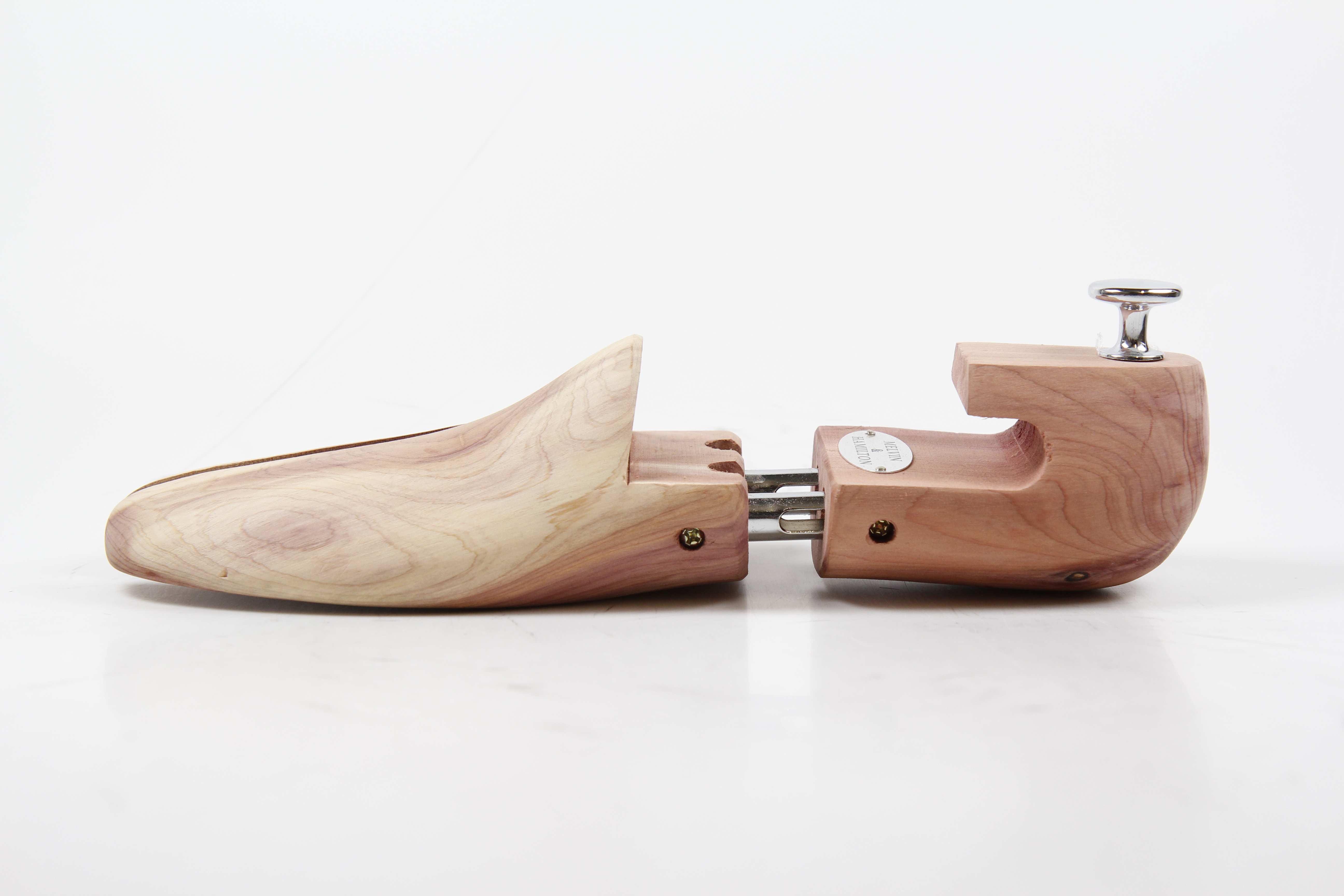 Also essential: the shoe trees ! These wooden forms will avoid the deformation of the leather. By Melvin & Hamilton, these shoe trees are made of cedar wood: the shoe will  not only retain its line, but in addition, cedar aerates and leaves a pleasant scent to leather.
Do not hesitate to get some for all your favorite styles - furthermore their price is decreasing in our shop! 
Smooth leather
First step: cleaning
The upkeep of your leather shoes is relatively simple. Most of the time, you just need a dusting brush and a soft cloth!
The most important thing is above all to regularly clean your shoes. The dust, the weather, all this will alter the leather tones dazzling shine, from the most classic brown to the most brightly colored leathers.
To clean your shoes, remember to place shoe trees and to remove the laces. Then lightly brush the dust off and finish cleaning by using a soft cloth or a chamois cloth. 
You can also use cleansing milk (highly effective) to be applied with a cloth and to let dry for a while.
This is an essential step before applying any product!
Second step: nourishing
Leather is skin or hide, which are soft materials that needs to be nourished. 
The seam between the sole and the upper should not dry or crack, because it would weaken the whole shoe. To avoid this, you can use grease to be applied with a small brush between the sole and the top of your shoe, where the seams are. 
Then generously apply a polishing cream using a soft cloth to soften and nourish the leather. Proceed with circular movements, and pay particular attention to the walking folds. The more you rub, the more this movement will create heat and relax the material, then do not hesitate to spend a little time for it.
This will prevent unsightly cracks, deformations, and should also revive the original colors. You will surely feel very matt rendering at the end of this step, but this aspect will change during the drying process. 
Your polishing cream can be either colorless or colored. In the latter case, we advise you to take the same color as the original color, in a darker tone.
At each stage, remove the surplus and let your shoes dry thoroughly before applying another product.
Third step: revival of colors & waterproof
You want to see them shining as the day they were purchased and protect them from weather? You can also apply a paste polish, to be selected in the nearest shades of the original color of your shoe.
There is no need to apply a lot of product; it simply helps to restore the natural radiance of the leather and to protect it. You can apply the paste using a round horsehair brush, which will buff the shoe and make it shiny.
Then let it dry once again.
The experts - or the most patient of you - may also find the original glazing of your shoes tips with a bit of elbow grease, water, glazing paste and a brush.
Or even give them a personal patina. Everything is permitted!
Caution: we recommend not to apply any spray made with alcohol make you shoes waterproof; it may damage the color of the shoes and we cannot be held responsible in this fact by using inappropriate or too strong products.
Patent shoes
The upkeep of patent shoes requires a little more specific products:
1. Clean : use a chamois cloth (or a very soft cloth that will not leave any mark or scratching). If you must brush, use a specific patent leather brush.
2. Nourish : use grease for patent leather instead of cream, which will be useless in this case.
3. Revive : patent leather will inevitably acquire a patina over time and also tarnish. To maintain its shine for longer, it is best to use special buffing polisher, also to apply with a chamois cloth. Apply uniformly and let dry until the leather mattifies. Then you can polish your shoes to make them shine, rubbing them vigorously, but gently, with a clean chamois cloth.


In general, a patent shoe, even of high quality, age faster than classic soft leather shoes, and you can unfortunately not avoid wearing folds or cracks, for example.
Also note that for patent shoes, the shoe tree is essential!
Nubuck shoes
Nubuck or suede, this very soft leather is also very delicate. It requires a little more attention to avoid marks or stains. It's not the easiest material to upkeep, but the suede has so much charm that it deserves more attention and more time.
1. Dust: Remove the laces if any, drag shoe trees in your shoes and use a special brush (also called "scraper") to remove all traces of dust accumulated, especially on the seams and lacing. Over time, the suede ends up taking a smooth and dark appearance. To regain its splendor and very gentle touch, use a special brass brush and gently brush in the direction of hair growth, and inversely.
2. Clean: There are sprays dedicated to clean nubuck shoes. Spray slightly away from the leather on the entire shoe. To avoid stains, brush again immediately with the first brush (the scraper).
3. Waterproof: The nubuck & suede renovators also exist as spray. Spray a few centimeters away from the leather, and let it dry a great time (roughly a quarter of an hour). You can use the scraper again to apply the product evenly.